09.19.2022
The legacy of "Dad"
My sons…
If you asked me what legacy I will leave as their Dad, there would be different answers to your question depending on where we were during our lifecycles.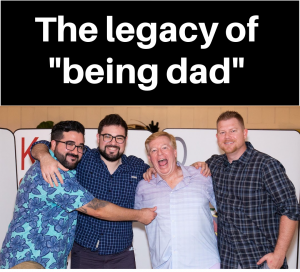 I recently had them all visit me in Las Vegas to celebrate their birthdays – we played doubles tennis every day, took in a concert, dined at some favorite restaurants, and engaged in our usual banter about music and film. None of them are just like me, but each has a piece of me, physically and personality, which is a parental legacy emotion that is impossible to replicate.
A lot of times, wealth managers try to help their clients leave a legacy, or they talk about protecting their clients' legacies.  Unfortunately, this is a term we reserve for the wealthiest among us. "The Legacy of Gates, Bezos, Waltons," etc.
But we can all have one, and that is because legacy isn't about money as much as it is about emotion.
Consider CoCo Chanel and her "little black dress." We don't remember CoCo for her massive wealth – we think of her for her style, her elegance, the timeless gifts she brought to people and how they made people feel – and how this has endured throughout time.
Life takes on a remarkable meaning when you live it in a way that intends to create a legacy. I realize this newsletter is a bit less concrete than the economic or market trends I usually talk about. It is just as central to your wellbeing, however, as any of those concepts.
Take a few moments to think about your legacy and what you're building, and if it's something you'd like to discuss then let's have a chat.
Andy